Aurora Rail Tour - from Fairbanks | NLR2
Alaska Railroad Winter Tour Packages from Fairbanks (NLR2)
Alaska Aurora Rail Tour and Chena Hot Springs Northern Lights Viewing (from Fairbanks)

A unique all-inclusive Alaska winter tour experience. Travel with the famous Alaska Railroad along the magnificent snow covered Alaska Range to Anchorage If you travel during the winter carnival to Fairbanks you may enjoy the World Championship Ice Carving competition and the Open North America Sled Dog Championship. Chena Hot Springs provides some outstanding and almost 100 % guaranteed Northern Lights viewing in a remote wilderness setting just below the Arctic Circle. Other winter activities are including: sled dog tours, cross-country skiing, snowmobiling and ice skating.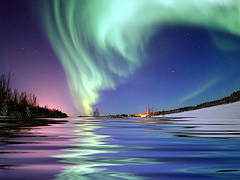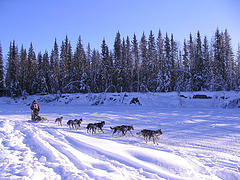 Day 1 Tuesday: Fairbanks
Upon arrival transfer from the airport to your hotel in downtown Fairbanks. Depending on your arrival time you may visit the University of Alaska with its large collection of historical Alaska artifacts, gold nugget displays and Aurora Borealis (Northern Lights) background information. Check out the Geophysical Institute on the campus with the always updated and current Aurora activity forecasts. If you travel during February or March - Fairbanks hosts the World Ice Art Championships, exciting professional Sled Dog Races and a large variety of other winter carnival activities. Remaining day at leisure. Note: Fairbanks provides already some spectacular and outstanding Northern Lights viewing (Aurora Borealis) opportunities. Overnight: Fairbanks
Day 2 Wednesday: Fairbanks - Chena Hot Springs

Morning at leisure or for additional individual sightseeing activities around Fairbanks. Early Afternoon: Private van transfer (60 Miles) on the scenic Hot Springs Road with open views across the tundra to the Chena Hot Springs Resort. First opportunities to observe magnificent Aurora displays on the dark northern sky. Overnight: Chena Hot Springs.
Day 3 Thursday: Chena Hot Springs Resort

Breakfast at the hotel. Remaining day at leisure. The Chena Hot Springs Resort provides an indoor thermal-pool with a large redwood outdoor deck, some indoor and outdoor hot tubs, restaurant, bar, the famous ice museum and hotel as well as a large - mineral water feed - natural rock lake. The rooms are featuring the following amenities: full bathroom, two queen beds, TV and coffeemaker. A unique and heated Aurora viewing log cabin for your pure and undisturbed Northern Lights viewing enjoyment is just a short walk away from the resort. Overnight: Chena Hot Springs.
Day 4 Friday: Chena Hot Springs Resort

Enjoy a delicious breakfast at the resort. The remaining day is at leisure. Spend this day with some exiting adventurous outdoor opportunities. Independent local operators are providing x-country skiing lessons and trips, a variety of guided sled dog tours from 30 minutes to 4 hours, wonderful sleigh rides, snowmobiling tours into the Chena Hills or flightseeing trips above the Arctic Circle with it's remote and authentic native villages (optional). Another evening/night with magnificent and exciting Aurora observation is just ahead of you. The best viewing starts after 10:00 pm and continuous until the early morning hours. Overnight: Chena Hot Springs.
Day 5 Saturday: Chena Hot Springs - Fairbanks

After breakfast time to enjoy the Chena Hot Springs Resort facilities. Recover from the exciting Aurora viewing during the past night and relax in the natural hot springs. During the afternoon minibus return transfer (60 Minutes) to Fairbanks. Rest of the day available for your own activities or alternative local sightseeing tours (optional). Please inquire. Your last evening in Fairbanks provides another chance for breathtaking Northern Lights viewing pleasures and a dinner in a nice restaurant along the frozen Chena River. Overnight: Fairbanks
Day 6 Sunday: Fairbanks – Anchorage
Transfer to the Fairbanks rail station and departure at 8:15 am for a very scenic full-day rail tour to Anchorage. All seats within the comfortable train compartments are pre-reserved and the staff takes care of your entire luggage. Enjoy the ride ! You'll get fantastic and breathtaking views of the snow covered Alaska Mountain Range with it's towering 20.320 feet high Mt. McKinley. Stopovers are at Denali National Park and Talkeetna before arriving in Anchorage in the evening around 7:45 pm. Check in at a downtown hotel. Overnight: Anchorage
Day 7 Monday: Anchorage
Remaining day in Anchorage on your own. Individual tour extensions or sightseeing tours are available. Please contact us for more information. Explore Alaska's largest city by yourself and visit the many points of interests. Take a walk on the Coastal Trail along Cook Inlet to Earthquake Park with a magnificent view of the snow capped Alaska Mountain Range in the distance, or take the motorcoach to Alyeska – Alaska's largest Ski Resort. Whatever you do don't miss a delicious lunch at one of Anchorage's top seafood restaurants. During February and March Anchorage hosts the annual Fur Rendezvous, Ice Carving Festivals, the Iditarod Sled Dog Race and other super natural Winter events. Flight reservations to your home destination may be made anytime for today. Please Note: all flights to/from or within Alaska are not included. End of the tour package.
Tour Includes
6 Nights Superior or First Class Hotel & Lodge Accommodation

All Alaska State Taxes
Airport - Hotel – Rail Station Transfers
Fairbanks – Chena Hot Springs – Fairbanks Transfers
Daily Pool Pass at Chena Hot Springs
Geo Thermal Energy Tour Chena Hot Springs


Rail Tour Fairbanks - Anchorage
Reserved Seats
Luggage Handling
Continental Breakfast in Fairbanks
Detailed Tour & Travel Documentation
Reservation Fee
Rates per Person in US $ from Fairbanks to Anchorage

| | | | | |
| --- | --- | --- | --- | --- |
| Tour Number: NLR2 Superior | Single | Double | Triple | Quad |
| Tour Dates: September 15 - April 15 | Tuesday Departures | $ 1540.00 | $ 955.00 | $ 820.00 | $ 760.00 |
Rates per Person in US $ from Fairbanks to Anchorage

| | | | | |
| --- | --- | --- | --- | --- |
| Tour Number: NLR2A First Class | Single | Double | Triple | Quad |
| Tour Dates: September 15 - April 15 | Tuesday Departures | $ 1815.00 | $ 1095.00 | $ 920.00 | $ 830.00 |