08-Days | Arctic Circle - Dog Mushing
Gates of the Arctic Alaska Dog Mushing Trip | Aurora Observation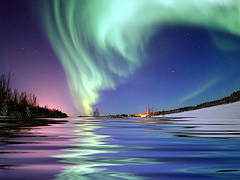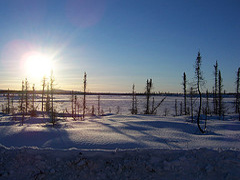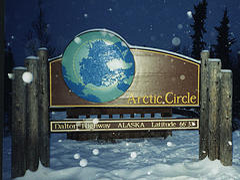 Day 1: Fairbanks
Arrive in Fairbanks. Complimentary transfer to your **** Resort Hotel on the banks of the beautiful Chena River near Pikes Landing. Relax during your first evening in Fairbanks and get ready for a few days of winter fun, activities and adventures within the Last Frontier. You may watch the Aurora Borealis already at night dancing on the northern sky and/or enjoy a relaxed dinner at the excellent Pikes Landing Restaurant. Fairbanks provides from late October through March some of the best Northern Lights viewing opportunities in the world. Enjoy the beautiful and mysterious Aurora Borealis curtains with colors ranging from green to red and to purple, with the brightest and most common color - a yellow-green. Overnight: Fairbanks
Day 2: Fairbanks – Bettles
Transfer to the airport and scenic flight above the Trans-Alaska-Pipeline and across the mighty Yukon River to Bettles - just outside of the world renowned Gates of the Arctic National Park - within Alaska's magnificent Brooks Range - and 35 miles above the Arctic Circle. Remaining day at leisure. The lodge is a refurbished building originally set up in 1948 and provides dining room, lounge with TV and a bar – open till 10:00 pm. Wireless internet service and phones are available. The six standard guest rooms are sharing two bathrooms. Accommodation at the nearby Aurora Lodge is available upon request (additional charge) and in rooms with a private bathroom and an jacuzzi in the bedroom. Dinner at the lodge. Enjoy the breathtaking Northern Lights viewing opportunities during the evening. Note: Arctic gear rental is included in our tour package rates. Overnight: Bettles Aurora Lodge
Day 3-6: Dog Mushing Adventure

Iditarod Musher
Sven Haltmann
operates some sled dog tours for our guests. This is an all-inclusive package and you can enjoy the experience of authentic Alaska at its best with dog sledding lessons, arctic gear to stay warm and two professional dog sledding guides. Trips can be customized with more days on the trail and/or more nights in Bettles at the Aurora Lodge. Please ask for quotes or trip ideas to have a trip customized to fit your individual requirements. A word from Sven: " This overnight trip is guided by me, Sven, along with a snow machine support partner. Most of the dogs are veterans of the Iditarod sled dog race and are very well behaved and friendly with people. I recommend that you like dogs but you don't have to be a dog fanatic in order to enjoy this trip. You do need to be an outdoor enthusiast and ready to tackle the cold. The Alaskan wilderness is not your typical backyard. We will possibly have encounters with wild animals, cross frozen rivers, lakes and tundra. Safety is our number one priority, fun is our number two priority - unplanned events and encounters can occur when mushing dogs in the Brooks Range. If you really want to experience an adventure in the beauty of the arctic, hopefully under the northern lights - then this is your trip. Jump on the runners with me for an unforgettable experience. "
The Alaskan Trapper: This is a exciting multi-day dog mushing and Northern Lights observation adventure trip into the arctic with a great possibility to see the moose, arctic fox, ptarmigan, caribou and if you are really lucky - wolves. On the first day we'll harness the dogs and take off. We pack our sleds with goodies and drinks. After a short intro you will be mushing your own team of athletes north into the mountains. 22 miles away is the first trapper cabin. It's located in the trees around Timber Creek. You are encouraged to help with the dog chores if you want, otherwise you can enjoy the warmth of the cabin or check out the beautiful surroundings. After an Alaskan style dinner cooked on the wood stove, we will make a big bonfire and hopefully see the dance of the northern lights or witness the singing between our sled dogs and the local wolf pack. We will sleep in our sleeping bags next to a warm & crackling wood stove. The next day brings us even deeper into the Brooks Range. Again we'll mush around 20 miles along the beautiful John River valley with its rugged peaks and mountains. This is where the scenery gets more and more spectacular. We complete the day by crossing Crevice Creek to arrive at the Crevice Creek cabins, owned by the Fickus Family. This is one of the favorite spots along the trail. It is located right on a creek and has its own runway. If we are lucky and the weather is right we might have Jamie drop by with her airplane to join us for a warm meal. Let's hope she'll bring us dessert. Of course a big bonfire at night is mandatory. Together we will share stories from the day's adventures and along with our dogs rest up in our cozy cabin from the days exciting happenings. Nothing is like waking up to an exciting bunch of huskies that can't wait to get your attention. We'll feed the dogs and ourselves, harness the raw power and make our way back to Timber Creek. By now you will be quite comfortable with your team and really get to enjoy the scenery instead of holding on like crazy & trying not to fall off. The team will have found a nice, smooth rhythm while you and your dogs will start to create more of a bond. You will really enjoy the experience of working together with your athletes and overcoming obstacles such as deep snow and the frozen tundra. It is extremely rewarding to feel the urge of our sled dogs to want to please you with their performance, to see their love of running and team work – an experience that will stick with you for a very long time. We will arrive at the cabin in the evening, take care of chores and take in the last night with our doggies in the wild Brooks Range. On our last day it's time to head back to Bettles. Now you can officially call yourself - Dog Musher !! After 4 unforgettable days on the trail we will arrive in Bettles, time to say goodbye to your new friends and stay another night at the cozy Bettles Aurora Lodge. Enjoy the hot meals prepared by Chef Roger while you share stories from the trail with guests and guides. How about ending your day by trading in your cold weather gear for a hot sauna or a soak in our "Alaskan" hot tub.
Day 7: Bettles - Fairbanks
Breakfast at the lodge. Return flight to Fairbanks and transfer to your hotel. Rest of this day at leisure. Fairbanks offers a variety of excellent gift shops and galleries such as the "Roseberry Art Gallery" with some tasteful gifts for your friends at home. If you travel during February or March - Fairbanks hosts the World Ice Art Championships, exciting professional Sled Dog Races such as the All American Sled Dog Race Championship and a variety of other winter carnival activities. Optional: Evening transfer from your hotel to a prime Northern Lights viewing area in the hills about 20 miles north of Fairbanks – far away from any city lights. Enjoy spectacular 270-degree Aurora displays through large picture windows from the comfort of a heated cabin or outside. Return transfer to your hotel. Overnight: Fairbanks
Day 8: Fairbanks
Morning escorted 2-hour city tour: Visit the renowned Alaska University Museum with the States largest collection of gold nuggets, gold mining history and Alaskan heritage artifacts, the Geophysical Institute - recognized as the best in the world for its Aurora Borealis research activities, an Animal Research Station, a Native Art Gallery and the Alaska Pipeline Oil Viewing Station. Remaining day at leisure. Airport transfer and end of tour package.
Tour Includes
2 Nights Accommodation Bettles
2 Nights Superior Accommodation Fairbanks
All Taxes
Reservation Fee
Airport - Hotel Transfers
2-Hour Escorted Fairbanks City Tour
Use of Arctic Gear, Snowshoes, X-country Ski Equipment

Fairbanks Shuttle Bus Service
Flights Fairbanks – Bettles - Fairbanks
6 x Breakfast
6 x Dinner
6 x Lunch
Dog Mushing Lessons

4 Day Guided Dog Mushing Tour
Rates per Person in US $ from/to Fairbanks

Tour Number: WDP4
Single
Double
Triple
Quad

October 01 - April 15 | Daily Departures | Minimum 2 Clients

Additional Night Bettles Lodge

$ 3930.00

On Request


$ 3630.00

On Request


N/A

N/A


N/A

N/A