Bettles Arctic Circle Aurora Tour | NLT2
Bettles: Northern Lights Viewing above the Arctic Circle (NLT2)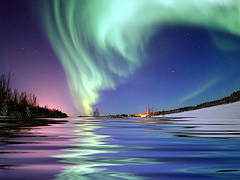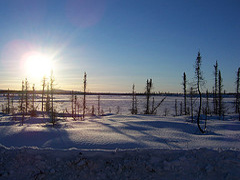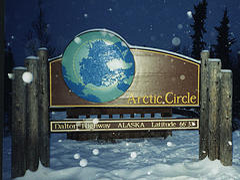 Day 1: Fairbanks
Arrive in Fairbanks. Complimentary transfer to your hotel near the banks of the beautiful Chena River. Relax during your first evening in Fairbanks and get ready for a few days of winter fun, activities and adventures within the Last Frontier. If you travel during February or March - Fairbanks hosts the World Ice Art Championships, exciting professional Sled Dog Races such as the All American Sled Dog Race Championship and a variety of other winter carnival activities. You may watch the Aurora Borealis already at night dancing on the northern sky and/or enjoy a relaxed dinner at the excellent Pikes Landing Restaurant. Fairbanks provides from late October through March some of the best Northern Lights viewing opportunities in the world. Enjoy the beautiful and mysterious Aurora Borealis curtains with colors ranging from green to red and to purple, with the brightest and most common color - a yellow-green. Overnight: Fairbanks
Day 2: Fairbanks
This morning you have time to visit the Alaska University Museum with the States largest collection of gold nuggets, gold mining history and Alaskan heritage artifacts and the nearby Geophysical Institute - recognized as the best in the world for its Aurora Borealis research activities. Explore Fairbanks and the surrounding area on this guided afternoon sightseeing tour (optional) - combining fun with Fairbanks history, Alaskan craftsmanship and Alaska winter activities. Your first stop is the Santa Claus House in North Pole where you can have a picture taken Mr. & Mrs. Claus. Continue to the Trans Alaska Pipeline viewpoint and the Yukon Quest Cabin. If you are looking for an authentic gift, then the Great Alaskan Bowl Company is the perfect place. Return to the hotel around 6 pm. Included: Evening transfer from your hotel to a prime Northern Lights viewing area in the hills about 20 miles north of Fairbanks – far away from any city lights. Enjoy spectacular 270-degree Aurora displays through large picture windows from the comfort of a heated cabin or outside. Overnight: Fairbanks
Day 3: Fairbanks - Bettles Lodge

Transfer to the airport and scenic flight above the Trans-Alaska-Pipeline and across the mighty Yukon River to Bettles - just outside of the world renowned Gates of the Arctic National Park - within Alaska's magnificent Brooks Range - and 35 miles above the Arctic Circle. Remaining day at leisure. The lodge is a refurbished building originally set up in 1948 and provides dining room, lounge with TV and a bar – open till 10:00 pm. Wireless internet service and phones are available. The six standard guest rooms are sharing two bathrooms. Accommodation at the nearby Aurora Lodge is available upon request (additional charge) and in rooms with a private bathroom and an jacuzzi in the bedroom. Dinner at the lodge. Enjoy the breathtaking Northern Lights viewing opportunities during the evening. Arctic gear rental is included in our tour package rates.
Please Note:
we offer exciting sled dog tours from Bettles into the Brooks Range and the remote Gates of the Arctic National Park.
Additional Information
. Overnight: Bettles Lodge
Day 4: Bettles Lodge
Breakfast at the lodge. Build in 1948 the lodge is a designated National Historic Site and listed on the National Register of Historic Places. Day at leisure and for outdoor adventures. Optional available activities: Guided Sled Dog Trips, Snowmobile Tours and a variety of Flightseeing Adventures. Other winter activities (included): x-country skiing and snowshoeing through the pristine wilderness. Afternoon: Guided 2-hour tour of the Bettles area including
the Inupiaq Eskimo village of Evansville. (Included)
Evening dinner followed by another night of exciting and outstanding Northern Lights viewing. Bettles sits under what is called the "Auroral Oval", a ring-shaped region around the North Pole. The location offers a great balance of occurrence, frequency and activity. Intensity varies from night to night, with the best viewing from late evening through the early morning hours. Overnight: Bettles Lodge
Day 5: Bettles Lodge - Fairbanks
Breakfast at the lodge. Return flight to Fairbanks between 9 AM - 11 AM. You will arrive in Fairbanks in the early afternoon. End of tour.
Tour Includes
2 Nights Standard Room Accommodation Bettles
2 Nights Superior Accommodation Fairbanks
All Taxes
Airport Hotel Transfers
Fairbanks: Northern Lights Sightseeing Tour
Use of Arctic Gear, Snowshoes, X-country Ski Equipment

Charter Flights Fairbanks – Bettles - Fairbanks
Evansville Village Tour

4 x Breakfast
2 x Dinner
2 x Lunch
Tour Documentation
Rates per Person in US $ from/to Fairbanks

Tour Number: NLT2

Travel Dates

Single
Double
Triple

5 Day Package | Standard Room


September 15 - December 19
January 03 - February 08
March 22 - April 15


$1610.00




$1360.00




$1350.00




5 Day Package | Standard Room


September 01 - September 14
December 20 - January 02
February 09 - March 21


$1890.00




$1665.00




$1655.00




5 Day Package | Jacuzzi Room


September 15 - December 19
January 03 - February 08
March 22 - April 15


$1750.00




$1520.00




$1510.00




5 Day Package | Jacuzzi Room


September 01 - September 14
December 20 - January 02
February 09 - March 21


$2050.00




$1795.00




$1785.00




Extra Night at Bettles Lodge

-

$350.00
$275.00
$265.00