Arctic Circle Aurora Adventure | NLT4
Arctic Circle Aurora Adventure | NLT4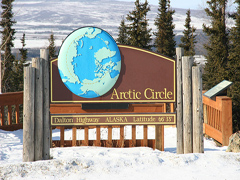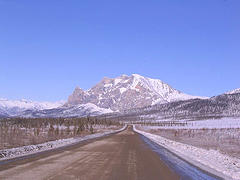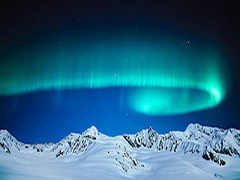 Day 1: Fairbanks
Upon arrival transfer from the airport to your hotel in downtown Fairbanks. Depending on your arrival time you may visit the University of Alaska with its large collection of historical Alaska artifacts, gold nugget displays and Aurora Borealis (Northern Lights) background information. Check out the Geophysical Institute on the campus with the always updated and current Aurora activity forecasts. If you travel during February or March - Fairbanks hosts the World Ice Art Championships, exciting professional Sled Dog Races and a large variety of other winter carnival activities. Remaining day at leisure. Note: Fairbanks provides already some spectacular and outstanding Northern Lights viewing (Aurora Borealis) opportunities. Overnight: Fairbanks
Day 2: Fairbanks - Arctic Circle - Coldfoot
Depart from Fairbanks in comfortable van conversions and travel along the remarkable Trans Alaska Pipeline. You'll follow the famous Dalton Highway, the solitary land route of Alaska's Arctic wilderness. Traverse the frozen Yukon River and enjoy the snow-sculpted forest. Cross the Arctic Circle in ceremonious fashion and receive an official Arctic Circle Adventure Certificate. Appreciate the low light on the horizon as it shines on the windswept arctic tundra. Arrive Coldfoot in early evening and get settled into your overnight accommodations. Aurora viewing expedition to nearby Wiseman. Accommodations: Located halfway between Fairbanks and Prudhoe Bay, Coldfoot Camp provides an excellent base for travelers in Alaska's Brooks Mountain Range. Although rustic by urban standards, Coldfoot Camp is clean and each room features two twin beds and private bath facilities in each of the rooms, a luxury in the remote wilderness of Alaska's Arctic.
Day 3: Coldfoot
Explore today the arctic region on this safari:
Enjoy an afternoon exploring the Brooks Mountain range on a drive north from Coldfoot on the Dalton Highway as far north as Atigun Pass. Departs Coldfoot at 10:00 am and returns at 6:00 pm. Meals not included. Box lunch can be purchased at the Coldfoot Camp.
Arctic Village Aurora:
Enjoy an evening tour to historic Wiseman for a unique cabin visit and an opportunity to enjoy the solitude of the Brooks Mountain Range as you scan the northern sky for Northern Lights. Cabin visit include Free hot beverages. Departs Coldfoot at 10:00 pm and returns at 2:00 am. Overnight in Coldfoot.
Day 4: Coldfoot - Fairbanks

Breakfast at the Truckers Cafe in Coldfoot. You have time to join another winter adventure (not included):
Dog Sledding Adventures:
Enjoy an experience with real Alaskan sled dogs. Learn what it takes to have a dog team in Alaska and enjoy. Fly back to Fairbanks with eagle views of the remarkable Trans Alaska Pipeline, symbolizing the immense changes brought to Alaska's Arctic by the discovery of oil over 30 years ago.
Day 5: Fairbanks - Chena Hot Springs Resort

Morning at leisure. Early afternoon transfer from your hotel to Chena Hot Springs - a prime Northern Lights viewing area in the hills about 60 road miles northeast of Fairbanks – far away from any city lights. Relax in the large heated mineral indoor pool, the outdoor rock lake and in numerous hot tubs – which are providing a great opportunity to soak or swim until the Northern Lights are appearing in the evening again. The 440-acre resort is also known for its healthy outdoor opportunities in the pristine wilderness of Alaska´s great Interior - first discovered by gold prospectors at the turn of the century. In 1912 - the 40 sq mile geothermal area was the premier place to soak - for residents of the booming town Fairbanks. Enjoy spectacular 360-degree Aurora displays through large picture windows from the comfort of a heated cabin above the resort or outside. Overnight: Chena Hot Springs Resport
Day 6: Chena Hot Springs Resort- Fairbanks

Morning at leisure. Return to Fairbanks by noon. Fairbanks offers a variety of excellent gift shops and galleries such as the "Roseberry Art Gallery" with some tasteful items for your friends at home. Stroll through the city again before returning to the airport.
Tour Includes
5 Nights Hotel & Lodge Accommodation
Escorted Van Tour Fairbanks - Dalton Highway - Coldfoot
Flight Coldfoot - Fairbanks
All Local Taxes
Fairbanks Hotel or Airport Pick up

Coldfoot: 1 x Arctic Aurora Viewing Tour
Coldfoot: 1 x Arctic Region Safari
Round Trip Transfer to Chena Hot Springs Resort
Tour Documentation
2 x Continental Breakfast
Rates per Person in US $ from/to Fairbanks

Tour Number: NLT4

Single
Double
Triple
Quad
September 01 - September 17
(Departures: Daily)

$2255.00


$1620.00

$1590.00


$1480.00

September 18 - December 19
January 01 - February 14
April 01 - April 21          
(Departures: Thursdays, Saturdays)

$1995.00


$1440.00

$1420.00


$1330.00

December 20 - December 31
February 15 - March 31
(Departures: Thursdays, Saturdays)

$2070.00


$1530.00

$151.00


$1415.00